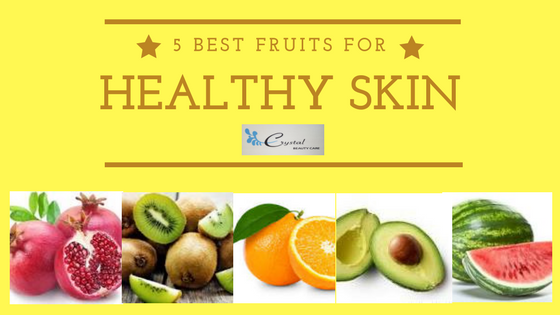 Your face is exposed to pollutants and ultraviolet rays everyday. No matter how many skin care products you apply to the outside of your skin, if you aren't eating good nutrition food to nourish your skin from within, your skin will look dull, unhealthy and undernourished.
Beautiful skin can be achieved by eating some of your favourite fruits. Eating fruits not only gives you a radiant skin but also a healthy body too. Take better care of your skin today.
Here are five best fruits for healthy skin that can make you skin glow:

Pomegranate: Packed wtih rich antioxiandants which helps to reverse free radical skin damage. Controls acne and prevent wrinkles. It is even rich with omega 3 fatty acid that is helpful for skin cells regeneration and it best works for scars or skin wounds. Pomegranate juice is beneficial for oily and pimple prone skin too.

Kiwi: Rich in Vitamin C content that boosts immune system. Kiwis are also rich in pectin and fiber, which strengthen digestion. Kiwis are a major source of antioxidants that can delay the effects of aging throughout the body.

Orange: Rich in vitamin C that improves skin texture. Its main content helps to fight against many bacterial and cures fungal infection on skin. Like apple, orange too contains collagen that slows skin aging process. Oranges too help clear skin blemishes.

Avocado: Rich in healthy fatty acids, vitamins and antioxidants that can improve your skin from the inside. It containts Vitamin B7 which promotes cell regeneration and growth. Avocado is also rich in Vitamin E which can reduce the effects of UVA and UVB radiation from excessive sun exposure on your skin.

Watermelon: Like water, watermelon is a well known cool fruit of summer and also called thirst quencher. It contains 93% water and loads of vitamins. It is enriched with antioxidant that works against UV-induced free radicals which are responsible for sun burn and freckles. Daily intake of Watermelon hydrates the dull and dry skin, making it look glowing and shiny.
Fruits helps you to stay closer to nature. Eating fruits can help you to get healthy skin. A healthy life style and healthy eating can make wonders for your skin.
If you have any feedback or thoughts to share on eating healthy fruits, please leave your comments below. Love to hear from you.